(5 minute read)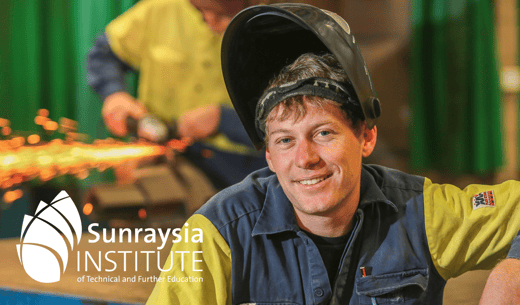 SuniTAFE is a leading regional provider of vocational education and training in northwest Victoria, Australia. With several campuses across a considerable distance, SuniTAFE sought a way to gather standardised, consistent feedback from their students. This feedback would allow them to improve their teaching and learning programs, understand the experience of their students across vast distances, and easily contribute to their accreditation procedures.
With an opportunity to evaluate various feedback platforms, they turned to Loop.
You can skip to any section of this article by using the clickable table of contents:
SuniTAFE's challenge
SuniTAFE faced a unique set of challenges in preparing people to join the local workforce. Its campuses are distributed more than several hundred kilometres apart; its students are from a range of age brackets; and many of the industries it has traditionally supported are undergoing transformation. It also faced increased competition for students through a number of new providers in the market.
The primary challenge for SuniTAFE was how to maintain its high standards of quality training across all its campuses while being responsive to the diverse needs of its students.
Manager of Curriculum and Data, Glenn Thompson, said "We needed to know what we didn't know."
SuniTAFE sought to implement a student feedback system that could be quickly deployed to all teachers and students. The aim was to provide feedback to teachers on the fly, as well as developing a channel for SuniTAFE to directly understand the broader student experience.
The solution had to align with the technical expectations of students, but also simple enough for all teachers to learn and deploy with ease.
Loop rollout
In 2017, SuniTAFE rolled out Loop to each of its regional campuses after a successful pilot program. Teachers participating in the pilot received their first student responses within 24 hours of deploying Loop.
To support use, Loop conducts training sessions with teachers. Glenn says these short sessions are key to teacher adoption, as they can see the value in the platform right away.
SuniTAFE recently held an education forum, where leading teacher Rebekah Jones presented on the value of Loop in her practice, and how it benefits her students. Rebekah recommends allowing students a few minutes at the end of class to respond to questions in their own time. This method generates near unanimous response rates.
"Receiving timely feedback, typically on the same day as asking the question, has provided me with confidence of whether students are on track with their learning and whether they feel engaged and supported."

- Rebekah
SuniTAFE's advice to their teachers is: "Be more connected to our learner needs, be responsive to feedback and act on the responses they are getting. Show the students you have received them and their voices are being heard."
Glenn recalls a situation in which a teacher sent out a Loop question to all of his students asking how they were going. One student was ready to withdraw from the course for various personal reasons. The early intervention by that teacher through Loop helped the student finish the course. Without the initial contact through Loop and the contact it facilitated, the student would have withdrawn.
"Looping back helps our students feel valued, respected and listened to, to provide feedback again. Imagine what they may share with others regarding their engaging learning experiences and the quality teaching they have received at SuniTAFE!"

- Rebekah

Providing a consistent experience in Teaching and Learning programs for all students
The first part of the implementation was to develop model questions for teachers to gather quality feedback from their students. These model questions asked what comprises student success, comprehension of assessment requirements, content understanding, and an appreciation of individual learning preferences. This provides each teacher with a valuable data set in critical areas of class delivery.
Each teacher asks these model questions in each unit. This provides a consistent approach for teachers to gather feedback from their students.
As is the nature of regional education providers, some students complete their course on-site (possibly over multiple campuses) while others are fully off-site, through on-line channels, or via a blended model.
Through Loop, SuniTAFE accesses an aggregated, anonymised data set with answers generated by these model questions. While protecting the privacy of individual teachers, this data set provides SuniTAFE with campus- and industry-wide trends and tools for analysis.
Each teacher can use Loop to ask additional questions of their students. These questions might relate to specific course content, a work placement, or individual learning preferences.
The ease of Loop means that a teacher can ask these questions quickly from a single platform so they can gather feedback from their students.
Understanding the Student Experience institution-wide
SuniTAFE also uses Loop to ask their students a brief number of questions each term. A standard set of questions provides SuniTAFE with a longitudinal data set about the student experience.
These questions, blending quantitative and qualitative questions, ensures high response rates. Each time SuniTAFE asks these questions, the first student response is received within seconds; SuniTAFE receives several hundred responses within a few hours.
SuniTAFE directly ask their students about the level of support they feel that they are receiving, their experience relating to the quality of the teaching, and for their input on what changes would improve their experience SuniTAFE.
This data set provides a responsive loop back to SuniTAFE about the impact of the strategic initiatives it has implemented to support the student experience.

Glenn says SuniTAFE is now looking to implement Loop as a part of the enrolment process, with initial questions about the enrolment itself providing two benefits: "we seek to improve processes with a simple question 'how was your enrolment experience?'; but it also captures students at the start of their journey, understanding that Loop is how they can have their voice heard during their time at SuniTAFE".

Using Loop to support accreditation
The Loop platform also enables simple, systematic evaluation of responses. This analysis drives SuniTAFE's commitment towards a position of continuous improvement of strategy and best practice for training and assessment.
Their continuous improvement strategy requires SuniTAFE to report to their regulatory body on a quarterly basis, a process supported by Loop. This demonstrates how the students are progressing and whether SuniTAFE are responding to student feedback and information gathered by the Loop platform.
The simplicity of this system takes a previously time-consuming element of accreditation and makes it easy, allowing teachers to get back to doing what they do best, teach.
At the core of Loop, SuniTAFE has stayed true to ensure the student journey is a positive experience and they remain a key decision maker in their own training. Loop provided an avenue to capture targeted data for the purpose of improving the student experience as well as capturing evidence for regulatory purposes. This data effectively demonstrates teacher and student engagement is part of the SuniTAFE culture of excellence.
Impact of change
Since implementation, SuniTAFE has gathered over 6,000 student feedback data points. Impressively, as it transitions more teachers and students to Loop, its use has grown more than 100% year-on-year since 2017.
This provides valuable data to ensure it maintains its high-quality training standards at an institutional level. It also provides SuniTAFE with student data in real-time – without any manual handling.
An increasing number of students providing responses on the platform demonstrates a successful growth of engagement between students and their teachers, as well as with the TAFE itself.
"Student feedback has traditionally only benefited the next student group, so Loop has been a significant change in us making classroom modifications on the fly that heightens our ability to be an agile and responsive TAFE. It connects us to students on a level that can now make a real-time difference, which is a major part of our strategic direction as we strive for continuous improvement."

- Robin, General Manager - Education
SuniTAFE is taking proactive steps to be the leading provider of both education, and job-ready employees in their community and beyond.

What's next for SuniTAFE and Loop
Looking to the future, SuniTAFE see significant potential in using Loop to engage with industry/employer partners. These partners form a significant influence in the TAFE's regional presence, a synergy that helps produce career-ready graduates and improved economic outcomes.
Connecting with those partners on a simple platform, that can generate real-time responses, will help to better understand the employability component that compliments the primary skills of each student of SuniTAFE.

How can Loop help?
Get in touch with our specialist to find out how Loop can support your strategy of improving formative feedback and student experience in your institution today.